Jornal The Guardian destaca popularização explosiva do veganismo: "fenômeno nacional"
Um dos jornais mais respeitados do mundo, o britânico The Guardian, destacou a "ascensão imparável do veganismo", segundo eles, um movimento de minorias que tem se popularizado absurdamente nos últimos anos: "sua expansão é um fenômeno nacional, com festivais de alimentos vegetarianos e negócios crescendo", disse o jornal.
A percepção do jornal não é à toa: o veganismo teve um crescimento recorde no Reino Unido desde 2016, agora representando impressionantes 7% da população!
O jornalista Dan Hancox destacou o fato de que importantes redes de mercados e restaurantes como Marks & Spencer e Pret a Manger têm introduzido cada vez mais opções veganas, que a rede de restaurantes orientais Wagamama tem um menu inteiro vegano, e que a Pizza Hut, a Pizza Express e Zizzi oferecem pizzas veganas.
Na internet, a sensação do Twitter se tornou o #veganhour, que acontece toda terça-feira entre as 19h e í s 20h, quando pessoas trocam receitas sem nada de origem animal e ideias. A hashtag até mesmo entrou nos trending topics da rede social!
"Se este é o ano do veganismo se tornar mainstream, como todo analista de tendências e analista de mercado parece concordar, não há uma única causa para isso, mas uma tempestade perfeita de fatores. As pessoas citam três principais motivos para se tornarem veganas – direitos dos animais, preocupações ambientais e saúde pessoal – e estão sendo acompanhadas por uma infinidade de novas empresas, livros de culinária, canais do YouTube, eventos da moda e documentários polêmicos. A indústria alimentí­cia tradicional está tentando desesperadamente alcançar a crescente demanda popular".
The Guardian é um entusiasta de longa data
Essa não é a primeira vez que a publicação celebra ou fala sobre a importância de uma dieta sem produtos de origem animal. Em novembro do ano passado, o jornal criticou duramente a narrativa segundo a qual a indústria da carne estaria "alimentando o mundo": "Essas empresas produzem uma grande quantidade de carne e laticí­nios por meio de subsí­dios em alguns poucos paí­ses e então exportam seus excedentes para o resto do mundo, bombardeando os consumidores com alimentos processados e nada saudáveis".
Um pouco antes, em seu editorial publicado no dia 5 de setembro, ressaltou que os veganos devem ser encorajados, uma vez que sua escolha é "high in moral as well as digestive fibre" (um trocadilho que, traduzido, seria algo como "uma escolha de fibra: moral e digestiva"), afirmando que há diversos dados que provam que a criação e exploração de animais para consumo polui o ar e destrói o planeta.
Junte-se a nós nessa decisão que é o maior impacto positivo que podemos fazer pelo meio ambiente, pela nossa saúde e pela vida de milhões de animais.
Clique aqui para começar uma dieta vegetariana agora.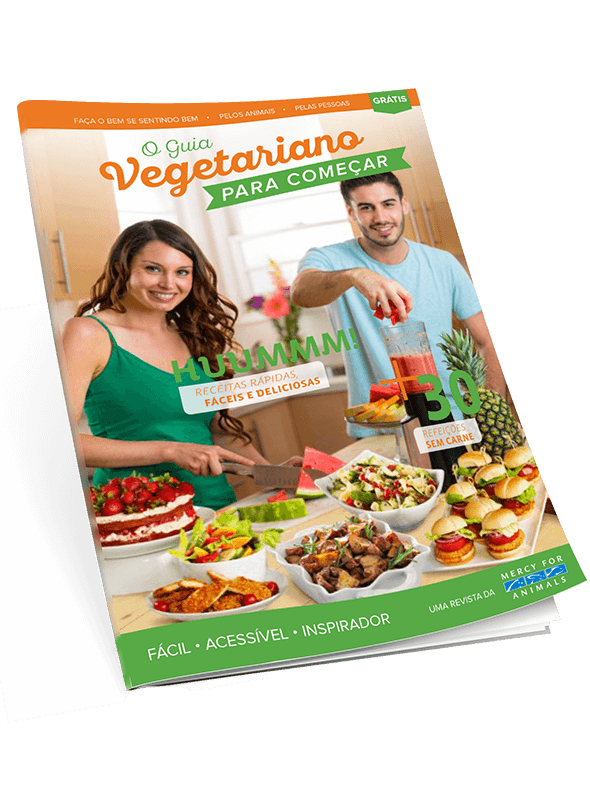 Garanta agora seu Guia Vegetariano gratuito!